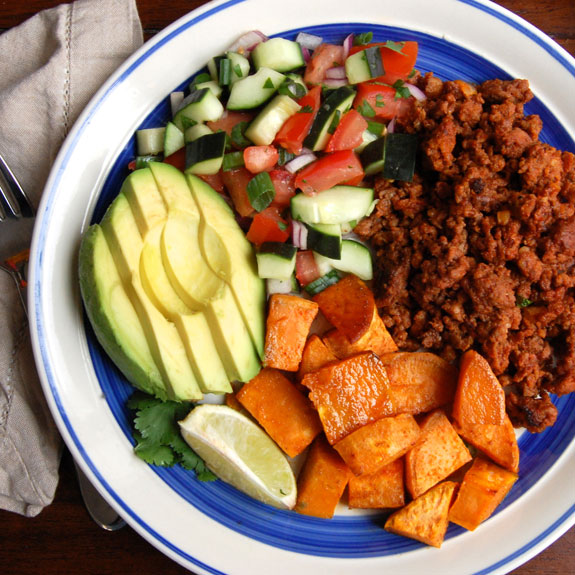 This recipe is pretty easy – sub out fish or pork, or chicken for the beef if you prefer!  Serves 4 –
adapted from Paleo Grubs
For the salsa
2 Roma tomatoes, diced and seeded
1 medium cucumber, diced
3 green onions, chopped
3 tbsp cilantro, chopped
2 tbsp extra virgin olive oil
Juice of 1/2 lime
Salt, to taste
For the beef
1 1/2 lbs. ground beef
1 medium onion, diced
1 tbsp extra virgin olive oil
1 14.5-oz. can diced tomatoes
3 cloves garlic, finely diced
2 tsp sweet paprika
2 tsp cumin
1 tsp ground coriander
1/2 tsp salt
For the potatoes
2 large sweet potatoes, peeled and cubed
2 tbsp extra virgin olive oil
1 tsp sweet paprika
1/2 tsp cumin powder
Pinch of ground coriander
Salt and pepper
1 avocado, diced
1 lime, for serving
Instructions
Mix together the ingredients for the salsa in a small bowl. Adjust salt to taste. Place in the refrigerator until ready to serve.
Preheat the oven to 375 degrees F. To make the beef mixture, heat the olive oil in a large skillet over medium heat. Add the onion and sauté for 4-5 minutes until soft. Add the garlic and cook for an additional minute. Add the ground beef to the pan and cook until browned, stirring regularly. Once browned, stir in the paprika, cumin, ground coriander, and salt. Add the diced tomatoes with the juices and bring to a boil. Reduce the heat to simmer and cook, uncovered, for 25-30 minutes, stirring occasionally.
As the beef is simmering, toss the sweet potatoes with olive oil and spices in a bowl. Place onto a rimmed baking sheet and roast for 20 minutes until soft, turning once.
To assemble, place the sweet potatoes in the bottom of the bowl. Top with the ground beef, salsa, and then the avocado. Serve with lime wedges.