OMG this is amazing and so simple to make – adapted from Clean Food Crush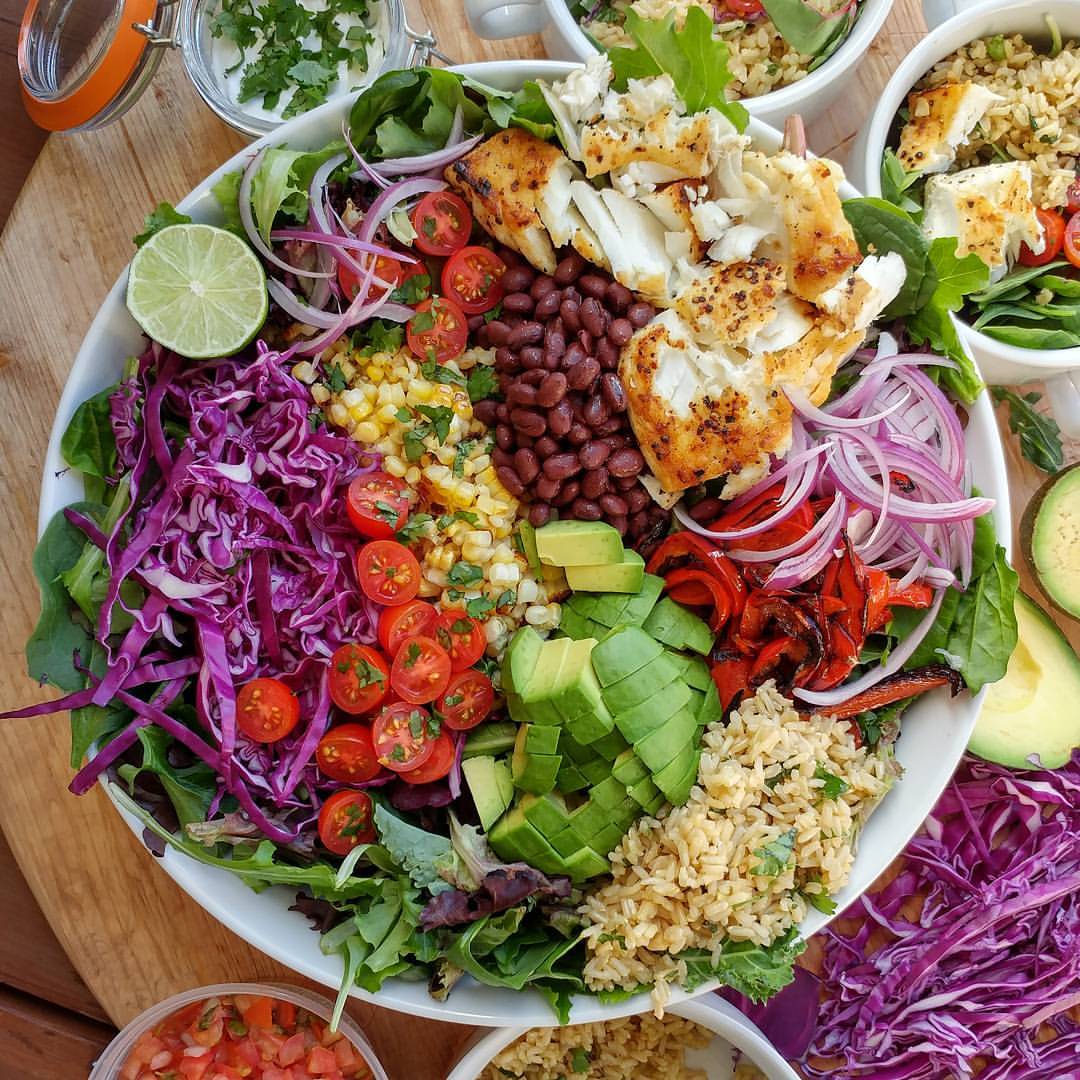 Makes 4 servings
Ingredients:

2 corn on cob, cooked, kernels cut from cob

2 cups cooked brown rice (I added the juice of a fresh lime + chopped cilantro leaves to the rice)

2 Tbsps avocado oil or olive oil or coconut oil

4, 4-5 oz skinless, cod or halibut filets

6 cups mixed baby greens

1/2 cup prepared black beans, rinsed well if using canned

1 avocado, diced

1/2 red cabbage sliced very thin

1 red pepper, sliced (I roasted mine)


1 cup grape, or cherry tomatoes, sliced

Fresh lime wedges, and fresh cilantro to serve
Instructions:

Heat oil in a large frying pan over med/high heat, pat dry fish with paper towel, then season with a pinch of sea salt & pepper.

Cook fish for about 4-5 minutes per side, until flakes easily. Cover tightly or wrap in foil while assembling the salads.


Divide all ingredients evenly between 4 large bowls, adding warm fish last.

I made a homemade Cilantro-Lime Vinaigrette to drizzle over these bowls:
Ingredients for Cilantro Lime Vinaigrette:
2 Tbsp per person is one serving.
1 jalapeno, seeded and chopped
2 cloves garlic, peeled
1 tsp minced fresh ginger
1/4 cup fresh lime juice
1/3 cup raw honey
2 tsps balsamic vinegar
1/2 tsp sea salt
1/4 cup cilantro leaves, packed
1/2 cup extra-virgin olive oil
Instructions:
Pulse the jalapeno pepper, garlic clove, and ginger into a food processor or blender for a few minutes.
Pour in lime juice, honey, balsamic vinegar, & sea salt, add the cilantro. Pulse a few more times to thoroughly blend.
With the food processor or blender on, drizzle in the oil until incorporated.
Lasts 1 week, refrigerated in a sealed jar.