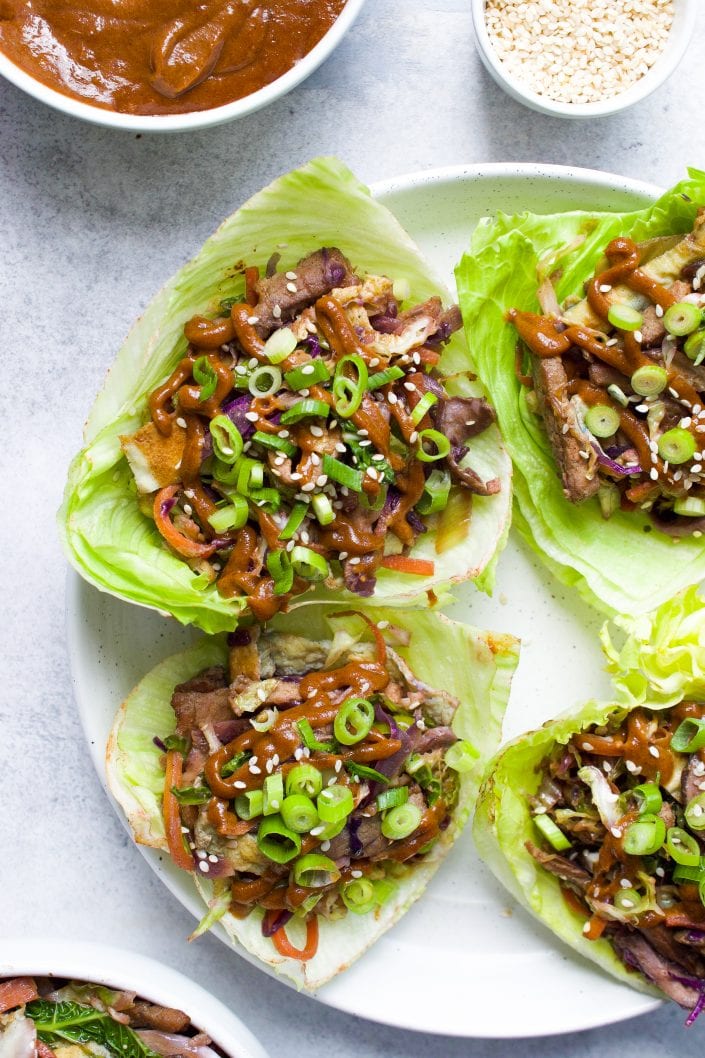 1 pound pork tenderloin
1/2 tsp baking soda
1 1/2 tbsp coconut aminos
1 tbsp apple cider vinegar
1 1/2 tbsp sesame oil
2 eggs
7 ounces shiitake mushrooms stems removed and cut into thin slices
1 large carrot* shredded or julienned
2 1/2 cups shredded savoy cabbage*
1 cup shredded red cabbage*
1/3 cup sliced scallions
1 tbsp chopped ginger
4 cloves garlic finely diced
saucee
4 large medjool dates soaked in hot water for 10 minutes
1 tbsp chopped ginger
1 tbsp almond butter
2 tbsp coconut aminos
1 tbsp balsamic vinegar
1 tbsp apple cider vinegar
1/2 tsp chinese 5 spice
To Serve
1 head butter lettuce or iceberg lettuce (or tortillas)
2 tbsp chopped scallions
1 tsp sesame seeds
INSTRUCTIONS
Cut the pork tenderloin into thin strips and place them in a bowl. Add the baking soda, apple cider vinegar and coconut aminos to the bowl and leave to marinate while you chop the veggies and prepare the sauce.
In a high speed blender or nutribullet combine the drained medjool dates, ginger, almond butter, coconut aminos, balsamic vinegar, apple cider vinegar and chinese 5 spice and blend into a thick paste like sauce. If the mixture is too thick to blend add a splash of water. Once completely, transfer to a small bowl and set aside.
Heat 1/2 tbsp sesame oil in a large non stick skillet on medium high heat. Whisk the 2 eggs in a bowl and pour them into the skillet. Leave the eggs to cook untouched for approximately 3 minutes until they are set (like an omelette). Slide the omelette from the skillet onto a cutting board and chop into thin small strips. Set aside.
Add the sliced pork plus any excess marinade to the skillet and cook for approximately 4 minutes until the pork is golden in colour and cooked through. Transfer the cooked pork to a plate.
Add the remaining 1 tbsp of sesame oil to the skillet and once hot add in the garlic and ginger and cook for 1 minute until fragrant. Add in the shredded cabbage, carrots, shiitake mushrooms and scallions and cook for approximately 4-5 minutes until the cabbage begins to soften.
Once the cabbage has softened (be careful not to overcook!) add in 1 large spoonful of the hoisin sauce plus the cooked pork and stir to combine. Once well mixed add in the strips of eggs and give it a gentle stir with a spatula so as not to break up the egg. Remove from the heat.
Serve the mixture in lettuce cups and garnish with a drizzle of the hoisin sauce and a sprinkle of chopped scallions. For those not doing a Whole30/SCD you could use tortillas.
NOTES
* The shredded savoy cabbage, red cabbage and carrot can be replaced with 4 cups of store bought coleslaw mix
** recipe from every last bite – easy and delish 🙂