Spinach Asparagus Frittata
This light and fluffy Spinach Asparagus Frittata is easy to make and ready on your table in 30 minutes. Make it for breakfast, lunch, dinner or brunch!
5 minPrep Time
25 minCook Time
30 minTotal Time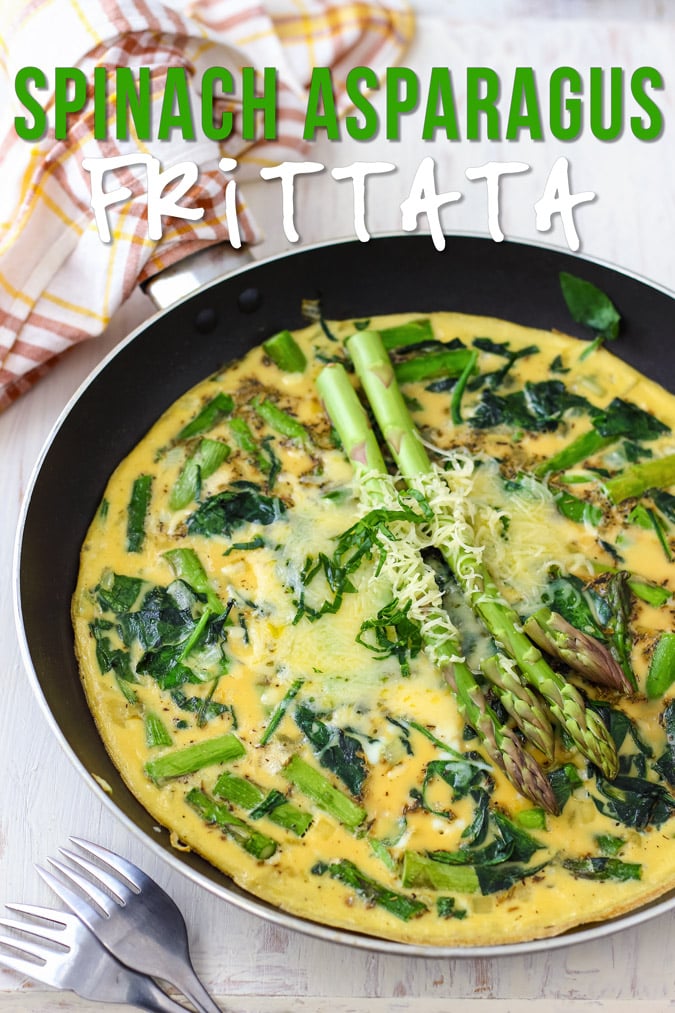 Ingredients
3 tbsp Olive Oil
1 Small Onion, diced
7 ounce Fresh Spinach
7 ounce Fresh Asparagus Stalks
3 Garlic Cloves
5 Medium Eggs
½ tsp Salt
A Pinch of Black Pepper
1 tsp Dried Thyme
½ cup Milk
3 ounce Cheddar Cheese (optional)
Instructions
In an oven-proof skillet/frying pan, heat the oil and add diced onion. Sauté for about a minute before adding the spinach in. Sauté until the spinach has reduced its volume.
Now preheat the oven to 400F.
Meanwhile: Wash the asparagus and trim off the hard ends. Cut the rest of the stalks into 1-1 ½ inch long pieces. Peel and mince the garlic. Add both the garlic and asparagus to the spinach and sauté for 1-2 minutes.
In a medium bowl, beat the eggs. Add salt, pepper, thyme and milk and stir well. Pour this mixture over the veggies and cook for a few minutes. When the eggs around the edges start to set, transfer the skillet into the oven.
Bake for 15 minutes or until the eggs are set.
Top with grated cheese and serve warm or cold for breakfast, lunch, brunch, dinner or as appetizer.
Notes
• Make sure to use an oven-proof skillet/frying pan. If you have one with a non-stick coating, use it. It makes a huge difference. • Use less, more or completely omit the cheese. • Mushrooms can be also added, just reduce the amount of spinach a bit.